Exploring DreamHost In Our Latest Web Hosting Review
About Hostings
Founded over two decades ago, DreamHost has steadfastly grown into a hosting powerhouse, currently serving over 1.5 million sites globally. This remarkable growth is a testament to its commitment to delivering top-notch service and robust hosting solutions. DreamHost offers a spectrum of hosting services, ranging from shared hosting, ideal for small businesses and bloggers, to VPS (Virtual Private Server) hosting, dedicated hosting, and managed WordPress hosting, catering to the diverse needs of its clientele.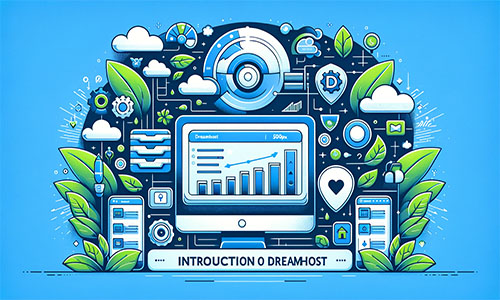 What is DreamHost?
DreamHost has emerged as a significant player in the web hosting arena, offering an extensive range of services, including DreamHost hosting and DreamHost domain registration. Renowned for its comprehensive solutions tailored to diverse web needs, DreamHost distinguishes itself with reliability, advanced features, and user-friendly interfaces.A DreamHost review typically highlights its user-centric approach, marked by an intuitive control panel, extensive website building tools, and one-click installations. DreamHost also stands out with its strong emphasis on privacy and security, offering free SSL certificates and domain privacy with each registration.
The DreamHost website builder review often praises its ease of use and flexibility, making it a great choice for those who are new to website building. DreamHost's builder comes with a variety of customizable templates and drag-and-drop features, allowing users to create professional-looking websites without needing extensive coding knowledge.Moreover, DreamHost prides itself on its commitment to sustainability, running its operations on renewable energy and advocating for a greener web hosting environment. This approach not only resonates with environmentally conscious users but also sets a standard for eco-friendly practices in the tech industry.
What is DreamHost Hosting?
DreamHost hosting encompasses a wide range of hosting services, designed to cater to various website requirements. From beginners launching their first site to businesses scaling their online presence, DreamHost offers plans that align with different goals and budgets.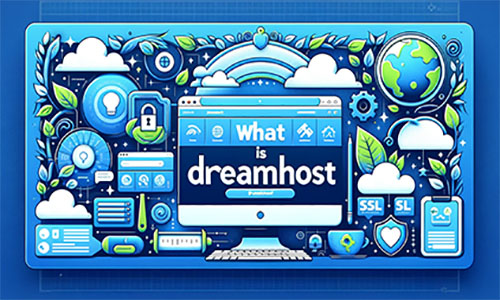 The core of DreamHost's offerings lies in its shared hosting plans, which are popular among small businesses and individual users. These plans are cost-effective, easy to manage, and come with unlimited bandwidth and storage, making them an ideal starting point for many users.For more demanding sites, DreamHost provides VPS hosting, which offers greater control and resources. This type of hosting is suitable for websites with higher traffic volumes or those requiring specific server configurations. VPS hosting with DreamHost ensures a balance between affordability and performance, offering scalable resources as your website grows.
For large-scale enterprises and websites with substantial resource demands, DreamHost's dedicated hosting offers the ultimate in performance and control. With dedicated hosting, clients get a server exclusively reserved for their website, ensuring maximum performance and security.Additionally, DreamHost specializes in WordPress hosting, with services ranging from basic shared WordPress hosting to managed WordPress hosting. Their managed WordPress plans, known as DreamPress, come with optimized server environments and additional features like daily backups and pre-installed Jetpack for enhanced security and performance.
In each of these hosting categories, DreamHost ensures reliability with its uptime guarantee, backed by a knowledgeable support team. A review of DreamHost hosting often commends its commitment to providing uninterrupted service, an essential factor for any online endeavor.
Why Take DreamHost Hosting?
Choosing DreamHost hosting for your website is a decision that brings numerous benefits, underlined by the company's emphasis on performance, security, and customer support. DreamHost domain services and hosting solutions are crafted to meet the evolving needs of the modern web.One of the primary reasons to opt for DreamHost is its user-friendly approach. The hosting provider makes it easy for novices and experts alike to create, manage, and maintain their websites. From the straightforward installation process to the intuitive control panel, DreamHost ensures a hassle-free experience for its users.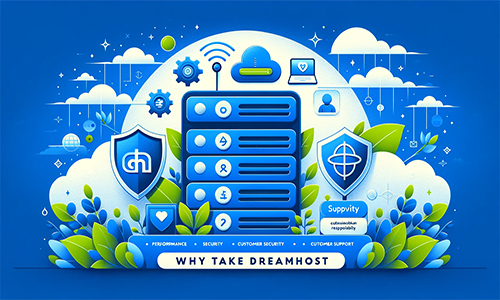 In terms of performance, DreamHost stands tall. With state-of-the-art data centers and advanced technologies, DreamHost ensures high-speed, reliable hosting, crucial for keeping your site accessible and engaging to visitors. Whether it's shared hosting or a dedicated server, DreamHost prioritizes speed and uptime, acknowledging these factors' critical role in website success.
Security is another key aspect where DreamHost excels. With features like free SSL certificates, automated daily backups, and robust firewalls, DreamHost goes to great lengths to protect your site from potential threats. This focus on security is particularly comforting for e-commerce site owners and businesses handling sensitive data.Moreover, DreamHost's customer-centric approach is evident in its DreamHost customer service. The support team is accessible 24/7 via multiple channels, ensuring that help is always at hand whenever you encounter any issues. This dedication to customer support has earned DreamHost accolades in numerous DreamHost hosting reviews.
Lastly, DreamHost's commitment to transparent pricing is a breath of fresh air in an industry often criticized for hidden costs and confusing price structures. DreamHost prices are straightforward, with no unexpected charges, providing users with clear information to make informed decisions.
How DreamHost Hosting Works?
Understanding how DreamHost hosting works is key to appreciating the robustness and reliability of their service. At the core of DreamHost's offerings are its diverse hosting plans, each designed to cater to different types of websites, from personal blogs to large-scale e-commerce platforms.The process begins with DreamHost domain registration, where users can choose a unique domain name for their website. DreamHost makes this process straightforward, offering a wide range of domain extensions and DreamHost domain name services that help users secure the perfect online identity for their brand.
Once the domain is registered, users can select from various DreamHost hosting plans. These range from shared hosting, ideal for starters and small websites, to more advanced options like VPS, dedicated, and cloud hosting for sites requiring more resources and customization.The real magic happens in DreamHost's data centers. Here, state-of-the-art servers ensure optimal performance and uptime for hosted websites. DreamHost employs advanced technology to manage these servers, including automated monitoring systems that guarantee high performance and availability.
Moreover, the user experience with DreamHost is enhanced by its custom control panel. This intuitive interface allows users to manage their hosting and domain services effortlessly. Whether it's installing applications, setting up email accounts, or managing backups, the control panel makes these tasks user-friendly and efficient.
In sum, DreamHost hosting works by combining advanced server technology, user-friendly management tools, and a wide array of hosting options to provide a seamless and powerful hosting experience.
Features of DreamHost
DreamHost offers a comprehensive set of features designed to meet the diverse needs of its users. From standard hosting necessities to advanced functionalities, DreamHost's feature set stands out in the web hosting landscape.One of the standout features of DreamHost is its robust storage and bandwidth offerings. Even on its basic shared hosting plans, DreamHost provides generous or unlimited storage and bandwidth, making it an attractive option for sites expecting a significant amount of traffic or having a large amount of content.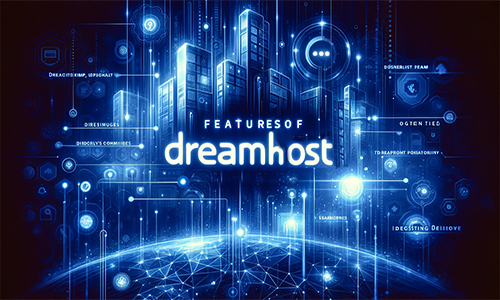 Another key feature is DreamHost's commitment to security. With free SSL certificates, automated daily backups, and robust firewalls, DreamHost hosting ensures that websites are secure and data is protected. This is particularly important for businesses handling sensitive information and e-commerce sites.DreamHost also shines with its WordPress integration. With specialized WordPress hosting plans, including managed options, users benefit from a hosting environment optimized for WordPress. This includes pre-installed WordPress, automated updates, and specialized support, ensuring a smooth experience for WordPress site owners.
Additionally, DreamHost's customer service and support are noteworthy. With 24/7 access to knowledgeable support staff via chat and email, users can get help whenever they need it. This DreamHost customer service feature is particularly praised by users for its responsiveness and helpfulness.
Lastly, DreamHost provides a versatile DreamHost website builder, making it easy for users without technical expertise to create professional-looking websites. This builder offers a range of templates and customization options, simplifying the website creation process.
Pricing Plans of DreamHost
Flexible and Transparent Pricing by DreamHost
DreamHost's pricing structure is designed to offer flexibility and transparency, suitable for a diverse range of users with various needs and budgets. The company's straightforward pricing strategy is marked by no hidden fees or unexpected price hikes upon renewal.
Affordable Shared Hosting Plans
DreamHost's shared hosting plans are notably affordable, ideal for individuals and small businesses. These plans include a free domain name, SSL certificate, and unlimited traffic, offering great value for beginners.
VPS Hosting for Enhanced Resources
For those needing more resources, DreamHost's VPS hosting plans provide dedicated resources for improved performance and flexibility, with competitive pricing that scales with growing website demands.
Dedicated Hosting for High Traffic Websites
Businesses with high traffic can choose DreamHost's dedicated hosting plans, offering top-tier performance and control with dedicated servers and extensive customization options, priced competitively in the market.
Specialized WordPress Hosting Solutions
DreamHost also caters to WordPress users with specialized hosting plans, including managed WordPress hosting under DreamPress. These plans are optimized for WordPress, with features like enhanced performance, automatic updates, and robust security, with varied pricing based on the level of resources and support needed.
Overall, DreamHost prices reflect the company's commitment to providing quality hosting solutions at every price point, ensuring that there's a plan suitable for every type of user.

Shared Website Hosting: Get started at just $2.59/mo! Ideal for beginners.
WordPress Essentials: Dive into WordPress at $2.59/mo.
DreamPress: Managed WordPress hosting with extra features, starting at $16.95/mo.
WooCommerce Hosting: Perfect for online stores, from $16.95/mo.
VPS Hosting: Need more control? Only $10.00/mo.
Dedicated Server Hosting: For the ultimate performance, starting at $149.00/mo.
Cloud Hosting: Power your project with cloud technology at $4.50/mo.
🌐 Extra Services:
.COM Domains: Secure your domain at a special price of $7.99!
Email Hosting: Professional email at $1.67/mailbox/mo. Google Workspace available from $7.20/user/mo.
Professional Services: Custom Web Design and Development, SEO, Social Media, and more!

Customer Support of DreamHost
DreamHost customer service is a pivotal aspect of the company's offerings, ensuring users have access to support and assistance whenever they need it. Known for its responsive and knowledgeable support team, DreamHost prioritizes customer satisfaction through various support channels.
The primary mode of support is through their 24/7 live chat and email support. This allows users to get timely help with any issues they might encounter with their DreamHost hosting or DreamHost domain services. The support team is equipped to handle a wide range of queries, from technical issues to billing inquiries.Apart from direct support, DreamHost also offers an extensive knowledge base. This online resource contains articles, guides, and tutorials covering various aspects of hosting and website management. Users can access this information at any time, making it a valuable resource for self-help and learning.
Furthermore, DreamHost has a community forum where users can interact, share experiences, and help each other with common issues. This peer-to-peer support mechanism enhances the overall support experience, fostering a sense of community among DreamHost users.
One of the notable aspects of DreamHost customer service is the focus on providing clear and straightforward solutions. Whether it's a simple query or a complex technical issue, the support team strives to provide concise and effective guidance, enhancing the overall user experience with DreamHost.
Pros of DreamHost Hosting
DreamHost hosting stands out in the web hosting market for several reasons. One of its primary advantages is its commitment to reliability and uptime. DreamHost guarantees an impressive 99.99% uptime, ensuring that websites remain accessible to users around the clock. This level of reliability is comparable to other major hosting providers like InMotion, A2Hosting, and IONOS, placing DreamHost among the top choices for dependable hosting.Another significant pro is DreamHost's user-friendly approach. With an easy-to-navigate control panel and one-click installations for popular applications, DreamHost caters to both beginners and experienced users. This ease of use is complemented by DreamHost's extensive documentation and tutorials, making it straightforward for users to find the information they need to manage their hosting effectively.
DreamHost also excels in the area of customer support. DreamHost support is known for being responsive and helpful, available 24/7 via live chat and email. The support team's expertise and dedication to assisting customers with their queries place DreamHost high on the list of providers with excellent customer service.
Lastly, DreamHost is a great choice for those looking for a variety of hosting options. From shared hosting to VPS, dedicated servers, and specialized WordPress hosting, DreamHost offers a range of services to suit different website needs and budgets.
Cons of DreamHost Hosting
Despite its many strengths, DreamHost hosting is not without its drawbacks. One potential con is the pricing structure for some of its plans. While DreamHost offers competitive prices, certain plans, particularly the managed WordPress hosting and dedicated server options, can be more expensive than similar offerings from other providers like Flywheel or A2Hosting. This might be a consideration for users on a tight budget.Another aspect where DreamHost could improve is the availability of phone support. Unlike some competitors such as InMotion and IONOS, DreamHost does not offer phone support, which can be a downside for users who prefer speaking to a support representative directly.
Additionally, while DreamHost offers a range of advanced features, these might be overwhelming for absolute beginners or those who prefer a more straightforward hosting experience. The wealth of options and settings can be a bit daunting to navigate for someone new to web hosting.
How Secure Is DreamHost Hosting? (Security)
Security is a paramount concern in web hosting, and DreamHost hosting addresses this with a comprehensive suite of security features. DreamHost provides free SSL certificates with all its hosting plans, ensuring that data transmitted between the server and users is encrypted and secure. This is a standard feature among top hosting providers, including A2Hosting and IONOS. Moreover DreamHost employs advanced firewalls and security monitoring to protect websites from malicious attacks and unauthorized access. Regular security updates and patches are applied to keep the hosting environment safe and up-to-date.
Another notable security feature of DreamHost is its automated daily backups. This ensures that website data is regularly backed up and can be easily restored in case of any data loss incidents, providing an added layer of security for website owners.
Furthermore, DreamHost's commitment to data privacy sets it apart from many hosting providers. DreamHost is a staunch advocate for user privacy, providing domain privacy with its DreamHost domain services to protect users' personal information.
Summary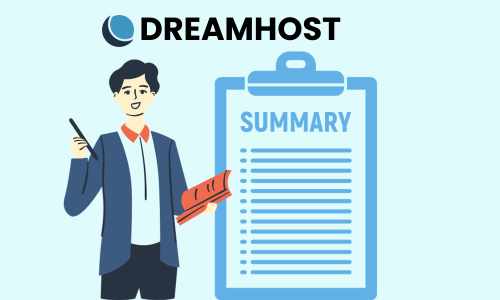 In summary, DreamHost is a versatile and reliable hosting provider that offers a wide range of services including DreamHost domain registration and DreamHost hosting solutions. With its commitment to uptime, user-friendly interface, responsive customer support, and robust security features, DreamHost stands as a strong contender in the web hosting industry.While it faces competition from other reputable providers like InMotion, A2Hosting, IONOS, and Flywheel, DreamHost's unique blend of features, customer-centric approach, and commitment to privacy and sustainability make it a preferred choice for many users.
Whether you are a beginner setting up your first website, a blogger in need of a reliable hosting service, or a large enterprise seeking a powerful hosting solution, DreamHost offers a range of options to meet your needs. With its balance of features, support, and security, DreamHost continues to be a significant player in the web hosting space.
Frequently Asked Question & Answers (FAQS)

Q. What is DreamHost?
A. DreamHost is a web hosting provider offering a range of services including web hosting, VPS hosting, dedicated hosting, and cloud services. They also provide DreamHost domain registration and management services.
Q. How does DreamHost compare to other hosting services like InMotion, A2Hosting, IONOS, and Flywheel?
A. DreamHost is known for its extensive features and competitive pricing. While services like InMotion, A2Hosting, IONOS, and Flywheel offer similar hosting solutions, DreamHost differentiates itself with its strong commitment to privacy, comprehensive DreamHost customer service, and a user-friendly DreamHost website builder.
Q. What are the pricing plans for DreamHost hosting?
A. DreamHost prices vary based on the hosting plan chosen. They offer a range of plans including shared hosting, VPS hosting, dedicated hosting, and WordPress hosting, each priced differently to cater to different needs and budgets.
Q. How reliable is DreamHost hosting in terms of uptime and performance?
A. DreamHost hosting is known for its reliability, offering a 99.99% uptime guarantee. This makes it a competitive choice alongside other major hosting providers.
Q. What kind of customer support does DreamHost offer?
A. DreamHost support includes 24/7 email and live chat support. While they do not offer phone support, their responsive and knowledgeable customer service team is well-regarded in the industry.
Q. Does DreamHost offer a website builder?
A. Yes, DreamHost provides a user-friendly DreamHost website builder, which is often praised in DreamHost website builder reviews for its ease of use and flexibility, even for beginners.
Q. Can I register domain names with DreamHost?
A. Absolutely, DreamHost offers a DreamHost domain name registration service, allowing users to easily search for and register their desired domain names.
Q. How does DreamHost ensure the security of its hosting services?
A. DreamHost hosting takes security seriously, offering features like free SSL certificates, automated daily backups, and advanced firewalls to protect websites hosted on their servers.
Q. What are the pros and cons of using DreamHost hosting according to user reviews?
A. According to various DreamHost reviews, the pros include reliable uptime, comprehensive customer support, and a variety of hosting options. Some cons noted include the absence of phone support and higher prices for certain advanced features.
Q. Is DreamHost a good choice for WordPress hosting compared to others like Flywheel?
A. In a review of DreamHost hosting for WordPress, it is often considered a strong option due to its optimized WordPress hosting plans, one-click WordPress installations, and managed WordPress options. While Flywheel is also a strong contender in WordPress hosting, DreamHost offers competitive pricing and features.