A Comprehensive Review of Flywheel Hosting Services
About Hostings
In this Flywheel review, we will discuss and see about this giant hosting services provider from all, aspects as it is user-friendly, pocket-friendly, and must be reliable too. Flywheel, the hosting company, embarked on its journey in 2012 and has since evolved into a prominent player in the expansive web development industry, particularly renowned for its WordPress hosting solutions.

Its inception was rooted in a mission to offer dependable and high-quality web hosting services to WordPress designers and developers worldwide
What is Flywheel Hosting
When you ask, "What is Flywheel?" the answer lies in a hosting company that excels in delivering high-performance, secure, and hassle-free web hosting solutions for WordPress users. Flywheel stands out as a prominent managed WordPress hosting provider, exclusively tailored for WordPress websites. Flywheel has gained recognition for its user-centric approach in the list of best web hosting providers.

One of Flywheel's defining attributes is its user-friendly platform. It simplifies the intricacies of managing WordPress websites, making it accessible for a wide range of users, from individuals to agencies and businesses. With Flywheel, the process of hosting and maintaining a WordPress site becomes streamlined and efficient. The Flywheel domain of hosting services is recognized for its user-friendly control panel and efficient customer support, making it a popular choice among website owners seeking hassle-free management of their online platforms. Flywheel places a strong emphasis on performance. Their hosting infrastructure is designed to provide exceptional speed and reliability for WordPress websites. This is achieved through the use of content delivery networks (CDNs), caching, and other optimization techniques. Consequently, websites hosted on Flywheel's platform typically load faster and deliver a smoother user experience.

Our Flywheel review is a hands-on examination of the features and performance of this WordPress hosting service, offering valuable insights to assist you in making an informed decision for your website hosting needs. Security is another paramount concern for Flywheel. They provide various protective features, including free SSL certificates, daily backups, and continuous security monitoring. These safeguards help shield WordPress websites from potential threats and vulnerabilities, offering peace of mind to site owners.
Developers and agencies particularly appreciate Flywheel's developer-friendly tools. Features like Git integration, command-line support, and one-click staging environments make it easier to develop, test, and deploy changes to WordPress sites. The staging environment allows for testing modifications before they go live, reducing the risk of errors or disruptions.

For collaborative efforts, Flywheel offers features that permit multiple users to work on WordPress projects. This feature is especially useful for agencies and teams that need to coordinate their efforts efficiently.
Why Take Flywheel Hosting
Within the highly competitive web hosting industry, the Flywheel domain stands out for its commitment to optimizing website speed and providing a secure environment, catering to the unique needs of WordPress developers and businesses. Flywheel hosting efficiently integrates with your domain, ensuring a smooth connection. Before selecting a hosting plan, it's essential to have a basic understanding of hosting. So, what is web hosting? Choosing Flywheel hosting can be a wise decision for a variety of reasons:

Specialization in WordPress: Flywheel is tailor-made for WordPress, offering hosting solutions optimized for the platform. This specialization means you get the best performance and support for your WordPress website.

High Performance: Flywheel's infrastructure is designed for speed and reliability, ensuring that your WordPress site loads quickly and operates smoothly, which is crucial for user experience and search engine ranking.

Security: Flywheel takes security seriously, providing features like free SSL certificates, regular backups, and proactive monitoring to keep your website safe from threats and vulnerabilities.

User-Friendly: The platform is known for its intuitive user interface, making it easy to manage your WordPress site, especially for those without extensive technical expertise.

Developer Tools: Flywheel offers an array of tools, including staging environments, Git integration, and command-line support, catering to the needs of developers and agencies.

Collaboration Features: If you work in a team or with clients, Flywheel makes collaboration straightforward, allowing multiple users to access and work on WordPress projects.

Support: Flywheel provides customer service and the Flywheel support team is always there to assist with hosting-related issues, ensuring that you have help when you need it.

Managed Updates: The platform handles core WordPress updates, ensuring your site stays up-to-date, which is vital for security and compatibility.

Migration Services: If you're looking to move an existing WordPress site, Flywheel offers migration services to make the transition smooth.

Overall Reliability: Over the years, Flywheel has built a reputation for reliability, providing consistent hosting services for WordPress websites.
Products of Flywheel
Manly Flywheel consists of 4 products and hosting types:

1. Flywheel Managed WordPress Hosting.
2. Exceptional hosting for WooCommerce sites.
3. Chat with experts for solutions for High Traffic Sites.
4. Adds on.
1. Flywheel Managed WordPress Hosting
Flywheel provides specialized servers and services designed exclusively for WordPress, making them a top-tier managed WordPress hosting provider. This means your websites receive the highest quality performance and security, as each server is optimized for this single content management system.
Beyond server optimization, a managed WordPress host like Flywheel offers additional benefits such as automated nightly backups and WordPress updates, effectively managing your sites for you. Additionally, their 24/7 support team, composed of WordPress experts, is readily available to assist you whenever you require help.Here are some standard features that come with Flywheel's platform:

Lightning-Fast, Reliable Performance: Flywheel's infrastructure ensures maximum uptime and speedy page loading speeds for your WordPress site.

Auto-Healing Technology: In the rare event of a service failure, your site will automatically repair itself, resulting in better uptime and more reliable performance.

Flycache: Their custom caching technology optimizes site performance and ensures efficient caching for popular themes and plugins.

CDN: Every site includes a world-class content delivery network (CDN) at no additional cost, guaranteeing exceptional page load speeds for visitors worldwide.

Maximum Security: Flywheel's robust platform is meticulously crafted to protect your WordPress sites from security threats, reducing the need for additional security plugins and offering peace of mind.

Free Malware Cleanup: Plugin Security Alerts notify you of potential security risks. If malware is detected on your site, Flywheel will fix it at no extra cost.

WordPress Updates: Flywheel handles both major and minor WordPress updates, ensuring your site remains secure with the latest version.

Automatic Nightly Backups: Backups of your site are stored on a separate server for 30 days, allowing for easy one-click restoration.

Real Support from Experts: Flywheel Support temas offers 24/7 technical support, ensuring you receive helpful answers and not automated responses.

Manage Tickets and Resources: Their seamless in-app support system enables easy interaction with your support tickets, and their Help Docs provide valuable resources and WordPress guides.

Flywheel's platform streamlines the experience from start to finish. It's designed to help manage and optimize your WordPress workflow, whether you're a solo business owner or part of a larger creative team.
Say goodbye to cPanel, as Flywheel's dashboard is a user-friendly, feature-rich environment that includes tools and features to enhance your workflow. From staging sites to site templates, Flywheel offers functionalities that expedite your processes.

Collaboration is made simple and efficient, regardless of whether you're working with clients, teams, or occasional freelancers during the site creation process. Additionally, Flywheel offers free migrations, round-the-clock support, and 14-day demo sites to help you get started.
2. Exceptional hosting for woo commerce sites
Elevate the growth of your WooCommerce store with WP Engine's specialized e-commerce hosting platform. Enhance website speed by up to 40% and boost sales by 18%. Speak to an expert. Flywheel is now part of WP Engine, and we're thrilled to offer the ultimate e-commerce solution to supercharge your WooCommerce store! The product consists of as following:
Swift WordPress Hosting
WP Engine's robust hosting platform is fine-tuned for site speed, ensuring that your WooCommerce shop delivers peak performance. We handle the technical intricacies, allowing you to concentrate on managing your store, crafting your products, and expanding your loyal customer base.
Enhance Sales with Instant Store Search
Increase sales with instant and relevant search results. Present your most valuable products with Instant Store Search (Powered by ElasticPress, the leader in WordPress search). Elevate conversion rates with our autocomplete features.
Domains
Accelerate the creation of e-commerce landing pages. Create seamless shopping experiences using our customizable WordPress e-commerce themes and WooCommerce-optimized Gutenberg blocks. We also offer fully customizable e-commerce blocks with Genesis Custom Blocks, allowing you or your team to personalize them with or without coding.
Built-in Security
Incorporated security, for your peace of mind and your customers. Rest assured knowing that your ecommerce site is protected and secure. Our platform is meticulously optimized for WordPress to mitigate security risks and undergoes a SOC 2 Type II examination for security and availability.
Support
Genuine assistance from real people, 24/7/365 No matter where you are, our friendly real-time support team is just a click away. You can engage in a helpful conversation, access in-depth documentation, and discover all the answers you need in one place. Our team of technical WordPress experts is dedicated to supporting you and your business, not just clearing a queue.
Tailored E-commerce Plans
Crafting the perfect e-commerce plan for you. Rather than imposing your site onto an ill-fitting plan, our e-commerce experts collaborate with you to design a customized package that suits your store, ensuring you have all the necessary specifications for ultimate success.
With a 60-day money-back guarantee* and minimal effort on your part, there has never been an easier way to enhance your WooCommerce experience.
3. Chat with experts for solutions for High Traffic Sites
Elevate the performance and stability of your mission-critical websites with cutting-edge security, a scalable infrastructure, and personalized white-glove customer service. Initiate a conversation with an expert and request a customized quote. As a part of WP Engine, Flywheel takes pride in providing specialized services for high-traffic websites through our enterprise-grade platform.
Allows Flywheel to assist you in expanding your WordPress sites on our enterprise-grade infrastructure, proprietary caching layer, and advanced network framework. Choose a platform that can effectively bolster your success as your digital business continues to expand. Some of the functions of these products are as follows:
Uptime & Security
Dependable enterprise-grade uptime and security. Every visitor you attract represents hard-earned business. Our platform guarantees consistent uptime, ensuring your business continues to flourish. Safeguard your brand with enterprise-grade WordPress security.
Effortless Site Management
Whether you need to make site adjustments or restore a backup, Flywheel offers intuitive and user-friendly tools for swift website updates. Easily invite collaborators, create staging environments with a single click, and efficiently manage various aspects right from your user-friendly dashboard.
Seamless Collaboration
Effortless collaboration with a broad range of partners. Whether you're collaborating with team members or external collaborators, adding them as collaborators to manage the site, edit files, and update the database is a seamless process. Each collaborator receives their unique login and Single Sign-On (SSO) access, eliminating the need for cumbersome password spreadsheets and enabling swift and efficient collaboration.
Expert WordPress Support
Genuine support from highly skilled WordPress experts. Flywheel's premium customer support team, comprised of technical and customer success managers, offers customized onboarding, technical health evaluations, and monthly reviews.
4. Adds on
Flywheel's Performance Insights
Flywheel's Performance Insights is a feature designed to provide users with valuable data and analytics about their website's performance. It offers in-depth information on how well a website is performing in terms of speed, responsiveness, and user experience. With Performance Insights, users can access key metrics and data that help them make informed decisions to optimize their site's performance.
Automated Manage Plugins
Simplify the process of automating WordPress plugin updates without risk. You can select your preferred update frequency (daily or weekly), track update statuses, set update timings, initiate maintenance mode with a single click and customize notification settings (for successful or failed updates) sent to your chosen contacts
.
Benefit from Google Analytics in conjunction with Flywheel to access valuable user behavior data. This free Add-on allows you to link your Google Analytics account and consolidate all your data into an easily accessible dashboard, enabling you to focus on what truly matters in shaping
Google Analytics
Benefit from Google Analytics in conjunction with Flywheel to access valuable user behavior data. This free Add-on allows you to link your Google Analytics account and consolidate all your data into an easily accessible dashboard, enabling you to focus on what truly matters in shaping
Pricing Plans of Flywheel
Flywheel prices are competitive in the managed WordPress hosting market, offering various pricing tiers to accommodate different budgets and hosting requirements.
1. Managed WordPress plan
When considering Flywheel prices of managed WordPress, users can appreciate the transparency and value they provide, making it an attractive choice for both individuals and businesses seeking reliable hosting solutions.
Annually
Flywheel offers a range of hosting plans tailored to various needs whereas they give discounted prices if the plan is taken annually. Their "Tiny" plan is suitable for basic installations, while the "Starter" plan is the most popular for single sites. The "Freelance" plan accommodates growing client lists, and the "Agency" plan is a robust solution for advanced businesses. Yearly billing options include 2 free months with each plan.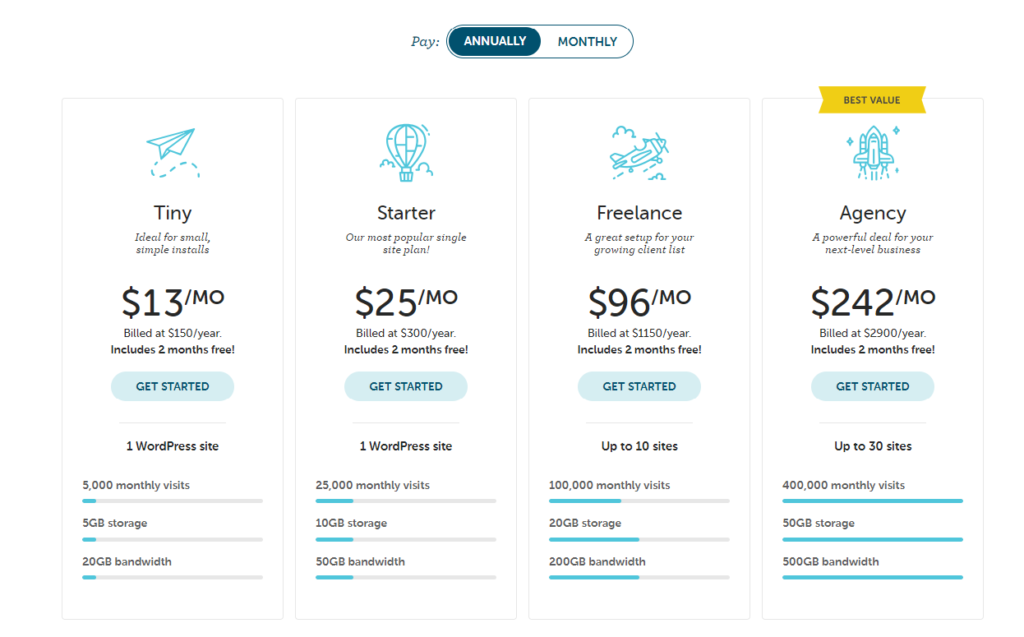 Source: https://getflywheel.com/pricing/
Monthly
Whereas the monthly rates are also affordable there is no such difference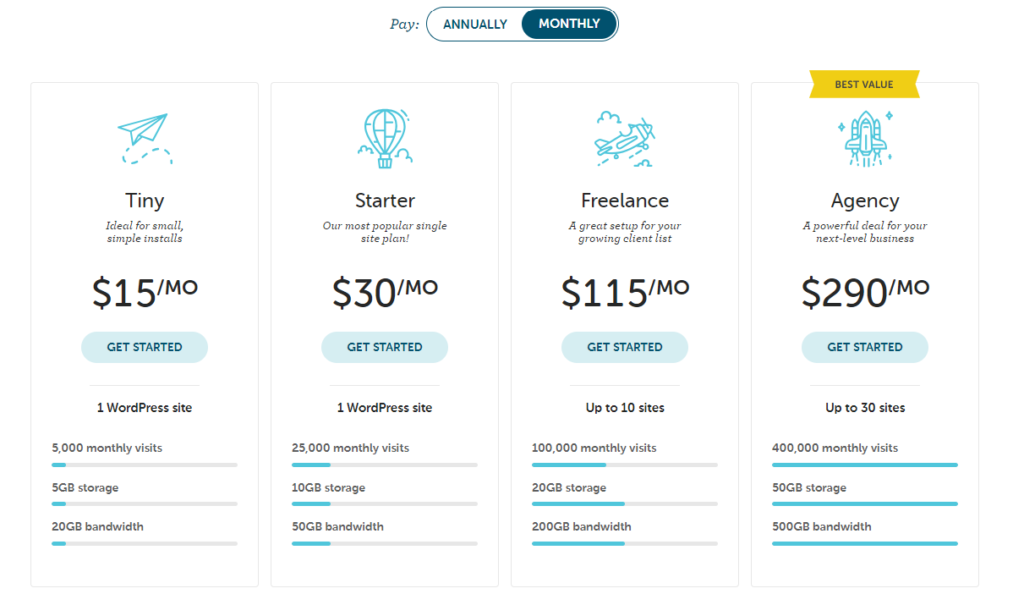 Source: https://getflywheel.com/pricing/
2. E-commerce WordPress Hosting
Flywheel prices of e-commerce WordPress hosting plans are designed to cater specifically to online businesses, offering robust features and performance optimizations to ensure a smooth and secure e-commerce experience for website owners. With a 60-day money-back guarantee* and very little work for you, there has never been an easier way to make WooCommerce better.
One-click store creation
Optimized store theme
WooCommerce template
Automated plugin updates
24/7 support
10 premium themes
Free automated migrations
Daily backups
Free SSL and SSH
One-click staging site
Professional
The optimal solution to amplify store sales and traffic
And expanded site limits for scaling your store

Source: https://getflywheel.com/woocommerce-hosting/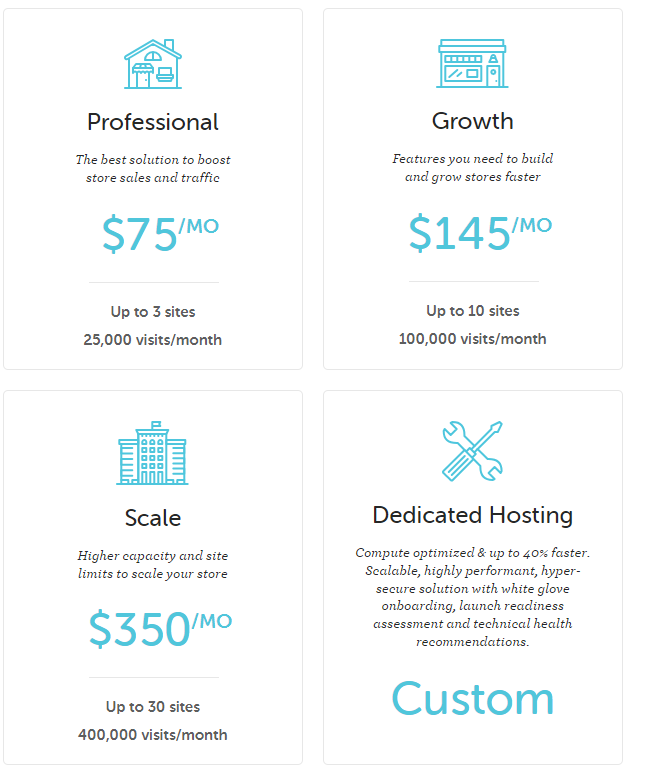 3. Dedicated Hosting
Compute-optimized and up to 40% faster. A scalable, highly performant, and ultra-secure solution with on-your-call. Customized dedicated hosting on your quote
4. Add on
The add-on features of Flywheel with cheap prices for this software provide valuable enhancements, allowing users to customize their experience to suit their specific needs.
Flywheel's Performance Insights
Enable Add-on + first site is $25/mo and Enable for each extra site $2/mo
Automated manage plugins
For each site $8/mo.
Google Analytics
Enable for free.
Pros & Cons of Flywheel Hosting
Pros of Flywheel Hosting
Specialized WordPress Hosting: Flywheel is designed specifically for WordPress, ensuring optimal performance and support for WordPress websites.

User-Friendly Interface: Their intuitive dashboard simplifies website management, making it accessible even for those with limited technical expertise.

High Performance: Flywheel's infrastructure is optimized for speed, resulting in faster website loading times and better user experiences.

Security Features: They offer robust security measures, including free SSL certificates, daily backups, and security monitoring, reducing the risk of vulnerabilities.

Developer Tools: Flywheel provides tools such as Git integration and staging environments, catering to the needs of developers and agencies.

Collaboration Features: Agencies and teams benefit from collaboration tools that allow multiple users to work on projects efficiently.

Customer Support: Flywheel customer service is highly regarded for its responsiveness and knowledgeable support team, ensuring that users receive prompt assistance for their hosting needs. The Flywheel support team is available to assist with hosting-related issues, ensuring you have help when needed.

Cons of Flywheel Hosting

Price: Flywheel's premium hosting comes at a cost, which may be relatively higher compared to some shared hosting providers.

Traffic Limits: Depending on the plan, there may be limits on monthly visitors, and exceeding these limits could lead to additional charges.

Less Versatile: While excellent for WordPress, Flywheel is not a one-size-fits-all solution and may not be suitable for hosting other types of websites.

Limited Data Centers: Flywheel has data centers in select locations, which may not be ideal for websites targeting international audiences.

Migration Complexity: Migrating existing websites to Flywheel can be challenging for those not experienced with the process.
How Secure Is Flywheel Hosting
Flywheel Hosting places a strong emphasis on security, aiming to provide a safe and protected environment for WordPress websites. Here's a closer look at the security features and practices that contribute to the overall security of Flywheel Hosting:

Firewalls and Intrusion Detection: Flywheel employs robust firewalls and intrusion detection systems to monitor and block malicious activities and potential threats.
Free SSL Certificates: Every site hosted on Flywheel gets a free SSL certificate, ensuring data encryption and secure connections, which is vital for protecting sensitive information.
Daily Backups: Flywheel automatically creates daily backups of your website, offering an easy way to restore your site in case of data loss or emergencies.
Security Scanning: They perform regular security scans to identify vulnerabilities and promptly address any issues that may arise.
Plugin and Theme Restrictions: Flywheel restricts the use of certain plugins and themes known to have security vulnerabilities, minimizing potential risks.
Managed WordPress Updates: Flywheel manages both major and minor WordPress updates, ensuring that your site is running the latest and most secure version of the platform.
Malware Cleanup: Flywheel provides free malware cleanup if your site is compromised, offering peace of mind in case of security breaches.
Security Notifications: They keep site owners informed with security alerts and notifications, including updates and potential risks.

It's important to note that no hosting provider can guarantee absolute security, as security is a shared responsibility between the host and the website owner. Users also need to follow security best practices, keep their themes and plugins up to date, and employ strong passwords. Flywheel's combination of measures and attentive security practices makes it a secure choice for WordPress hosting.
Conclusion
In conclusion, Flywheel Hosting is a notable choice for WordPress users seeking a managed hosting solution. Their platform is purpose-built for WordPress, offering a range of benefits. With an intuitive interface, high-performance infrastructure, and robust security measures, Flywheel simplifies website management while ensuring reliability and safety. For developers and agencies, Flywheel provides valuable tools, such as Git integration and staging environments, streamlining the development process. Collaboration features facilitate teamwork, allowing multiple users to work on projects efficiently.
However, it's worth noting that Flywheel's hosting comes at a premium cost, which may not be ideal for budget-conscious users. They also have traffic limits based on the chosen plan, which could lead to additional charges if exceeded. Additionally, Flywheel's data centers are limited to select locations, potentially impacting website performance for international audiences.
Nonetheless, Flywheel customer service is commendable, offering real-time assistance from WordPress experts. Their commitment to security, including free SSL certificates, daily backups, and malware cleanup, contributes to a safer hosting environment.
Frequently Asked Questions

Q. What is Flywheel?
A. Flywheel is a well-established hosting company known for its managed WordPress hosting services, offering features like speed, security, and user-friendly solutions.
Q. How can I review Flywheel hosting services?
A. To review Flywheel hosting services, you can search for "Flywheel review" online, where you'll find detailed assessments of their performance and user experiences.
Q. Can I build a website with Flywheel's website builder?
A. Yes, you can create a website using Flywheel's website builder. For a comprehensive evaluation of the website builder, you can refer to a Flywheel website builder review online.
Q. What support options does Flywheel provide for its customers?
A. Flywheel offers a range of support options, including live chat, email, and phone support, to assist customers with any hosting-related queries or issues.
Q. What are Flywheel's hosting prices like?
A. Flywheel offers competitive hosting prices with different pricing tiers to accommodate various budgets and hosting needs. You can find detailed pricing information on their website.
Q. How does Flywheel's customer service compare to other hosting providers?
A. Flywheel's customer service is widely praised for its responsiveness and knowledgeable support team, distinguishing it from many other hosting providers.
Q. Can I manage my Flywheel domain with ease?
A. Flywheel provides comprehensive domain management features, making it easy to connect, transfer, and optimize your Flywheel domain as needed.

Q. How Easy is It to Migrate to Cloudways?
A. Cloudways offers a free migration service for your first website;, even if its a gamification plugin website; making the transition smooth and easy.